NEBOSH Diploma e-Learning
Download PDF
COURSE INTRODUCTION
The NEBOSH National Diploma for Occupational Health & Safety Management Professionals is the ideal qualification for any professional person looking to progress thier health & safety knowledge & skill.
For added support, Alpha Safety can also provide the unitary textbooks for each NEBOSH Diploma Unit. The cost for NEBOSH Diploma with textbooks is £1995.00 + VAT (To book the NEBOSH Diploma with textbooks, you must contact the office).
Delegates have 5 Years to complete this course online.
COURSE PRE-REQUISITES
No formal prerequisites are set for this qualification. Candidates should consider that the NEBOSH Diploma is a professional level qualification, considered by many in line with a universtiy degree. Prior completion of the NEBOSH National General Certificate or equivalent qualification is highly recommended
COURSE TOPICS


Unit ND1: Know - Workplace Health & Safety Principles


Unit ND2: Do - Controlling Workplace Health Issues


Unit ND3: Do - Controlling Workplace Safety Issues


COURSE BENEFITS
This qualification comes highly recommended for anybody that wishes to pursue a career as a health and safety professionals. Completion of this qualification offers an opportunity to achieve a Graduate membership status with IOSH (GradIOSH) from which, with continual experience, CPD and peer review can lead to Chartership (CMIOSH).
CSCS - Academically Qualified Person (AQP) Card
The Construction Skills Certification Scheme (CSCS) will accept the qualification alaongside a range of already-recognised NEBOSH courses, with applicants required to supply a copy of thier qualification while also passing the CITB Managers & Professionals Health, Safety & Enviroment Test.
Applicants can apply for AQP card via CSCS's online service.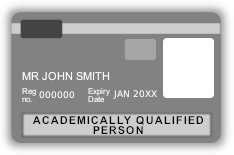 ASSESSMENT METHOD
Unit ND1: Assessment 60 Hours (Approx)
Unit ND2: Case Study 40 Hours (Approx)
Unit ND3: Case Study 40 Hours (Approx)
QUALIFICATION EXPIRY
Lifelong